The worst way
"The worst way to miss someone is to be sitting right beside them knowing you can't have them."
I could really have lived without today. Then again, I'm grateful for every second of it. I sat 'round the table, chit-chatting to Lea, when Martinez came over. Lea asked, casually, what he was doing tomorrow, cause we could all get together to watch 'Brother Bear'.
"Uh, I think I'm going to be with my girlfriend." he said, as if it was the most natural and not-that-heartbreaking thing to say. I didn't cry. I froze and frowned. Lea and him started talking about this girlfriend of his, but I refused to listen. I snapped at him all the time. And why? Is Lasse really better than Martinez? When Lasse told me about Rollo, I cried my eyes out, and they weren't even dating, not even close. Or do I just not know Martinez well enough to hate him for loving someone else?
I don't want to know her name, and I definitely don't want to see her picture. I thought his way of acting cheap, asking for blowjobs (joking, of course) all the time, was a way of proving his insecurities. I thought it was a way for him to try to score, maybe. I guess I was wrong. That makes his jokes annoying.
Anyways, we reached German class and I sat down beside him (on purpose), I still want to be close to him. And I was. We read of the same paper, and we sat very close. In between, we joked. I threw his hat away, he asked if I would lick his balls (he is a joker, please try to understand his weird sense of humor!) and I said "What do I get?".. He said "A kiss on the cheek."
For a second I thought to myself, what wouldn't I do for a kiss?
My thoughts are racing through my mind, it's awful. Why have I come to care so much for this beast of a guy? A 17year old guy who speaks of nothing but sex, tits n arse.
Is it all just a figure of my imagination? Can I be angry at Martinez for having a girlfriend? It's not like I own him, shite, he doesn't even know how I feel. He's not to know. Definitely.
It went wrong with Mehmet, Casper and Lasse. Why should it go right with Martinez - who happens to also have a girlfriend?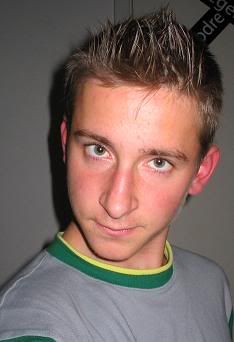 What is it with this guy that makes it impossible for me to concentrate during German class?
We got our report cards back today. I got two 11s, 2 7s and some other numbers, which I don't remember. It went well, I have upgraded myself from last year, which is okay. I got to blurt out my thoughts to some of the girls, about my mum not caring. Amalie understood me, which was a nice feeling.
I don't think there was much else happening today, the whole Martinez-thing just filled my mind all the time. I can't believe I snapped at him! Wrong way to go!
"Maybe God wants us to meet a few wrong people before meeting the right one, so that when we finally meet the person, we will know how to be grateful."